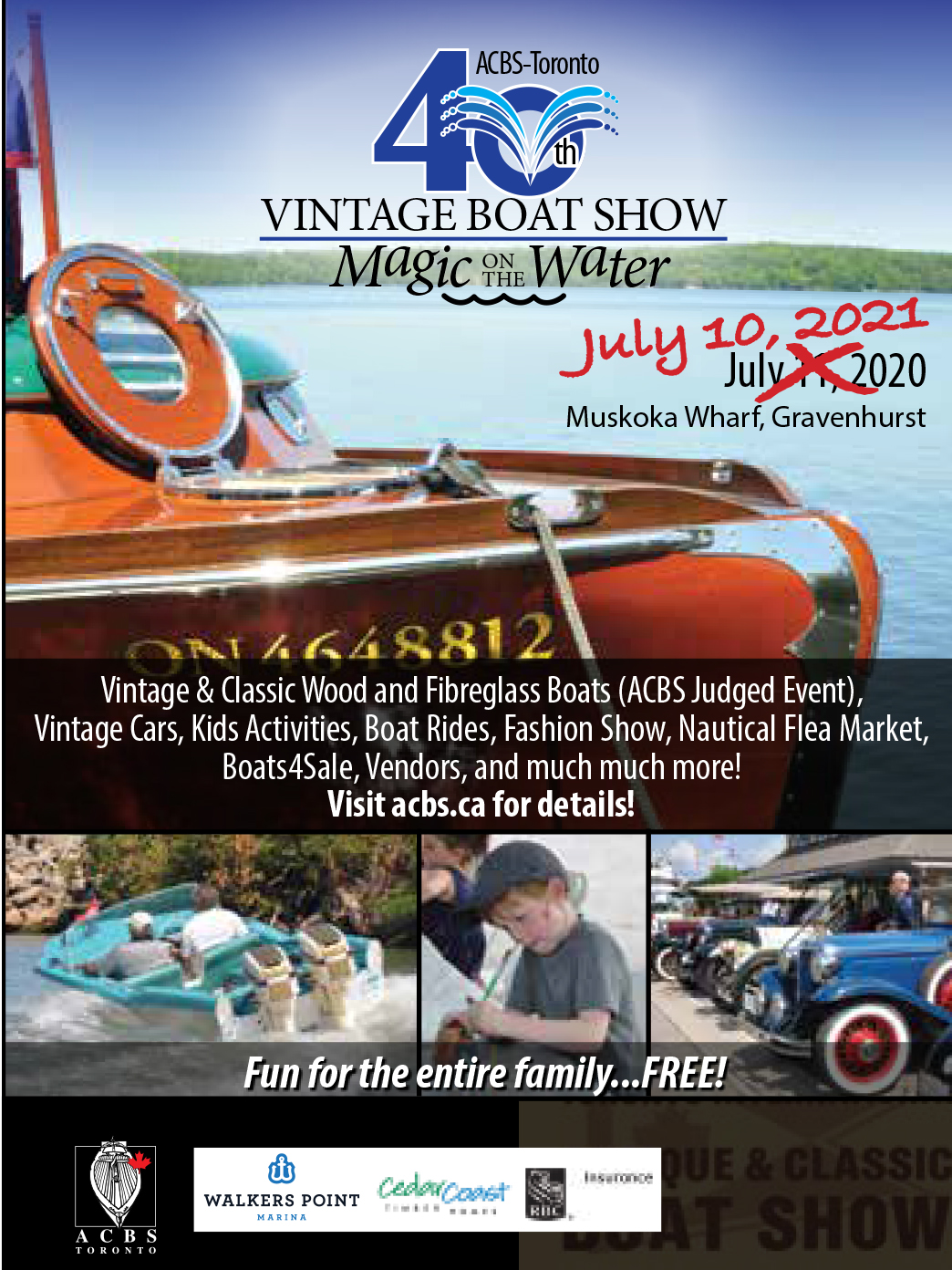 Muskoka Wharf, 821 Bay Street, Gravenhurst, Ontario
Do you recall where you were forty years ago this past July? Possibly at Harbourfront in Toronto for the inaugural ACBS-Toronto Antique Boat Show? It hard to believe the distance travelled and the accomplishments that ACBS-Toronto has made over the past thirty-nine years of shows to become one of the largest Antique, Vintage and Classic boat shows in North America. Truly a significant accomplishment.
From its humble beginnings in Toronto, to the Muskoka Wharf development in Gravenhurst, the Annual Vintage Boat Show has grown up in every respect.  The number of boats on display has continued to expand and so have the types of watercraft participating. With its roots firmly set in the world of mahogany launches and all manner of craft built in Muskoka, the show has expanded to include cedar strips, aluminum and classic fibreglass boats, all part of Ontario's boating heritage, reaching back over one hundred years.
So how did the show rise to the top? It's the boats and people! People who have cherished and looked after family boats for generations. People who have sought out and acquired collectable and unique boats of all types, preserving them for the future. People how work in the shops, restoring these treasures. People who make time and commit to displaying their boats at the show. And of course, the multitude of people who volunteer to sit on committees year-round and volunteer to work show set up and the show itself. 
We had planned to celebrate the show's 40th Anniversary in July 2020, we have postponed what will be the Celebration of our 40th Show until 2021, when we hope COVID-19 will be in decline and activities can return to normal. It promises to be "Magic on the Water"!  2021 will be judged show so that always ensures that it will attract the best of the best to the show.  Muskoka Wharf will truly come alive with over 120 boats on display and more to see and do on shore. With the ever-increasing popularity of the show, there will have quite a few of the registered boats set up on land, reaching from the Lions Pavilion west along the boardwalk. Visitors to the show can explore an impressive display and sale of antique and vintage outboard motors organized by the Maple Leaf Antique Outboard Club. There will also be a Nautical Flea Market to browse through in search of unique and hard to find items. There will also be antique and classic boats for sale, fully restored, ready for the water or as a project to take on.
Families can take part in the children's activities, shop in Vendors Alley, take in the Classic Car Show and enjoy a refreshment or meal at any of the waterfront restaurants.
To keep things moving and to show off their restored boats, owners will be taking them for a spin around the bay to the delight of the crowds and several owners will be offering the public free rides in their vintage boats.
This year's show takes place on Saturday, July 10th, 2021 at the
Muskoka Wharf in Gravenhurst
---
MEMBER AND PARTICIPANT INFORMATION
It's that time again to meet up with old and new friends to share our passion for vintage and classic boats!
These events are open to all Boat Show Exhibitors, ACBS, TSACBA, MLAOC and Manotick Chapter Members.
This year's theme is "Magic on the Water" – Celebrating our 40th Show – from wood to classic glass!  Thanks to the on-going participation of boaters from near and far, this show has become the largest vintage boat show in Canada!
It's also a special year because you can enter your boat to be judged by a panel of professionals and win bragging rights when you win one (or more) of the awards!
The Pre-Show Events include an exhilarating run around the Muskoka Lakes on Thursday for the fast boats with a barbeque shore lunch at an island cottage. On Friday, you can choose between a leisurely cruise on your own boat with a stop for a picnic lunch or let someone else drive while you relax and enjoy the scenery aboard the steamship Segwun (lunch optional).
If you're planning on bringing your boat, you can launch it and leave it overnight on B dock on Friday under the watchful eye of our security force. 
Because this is our 40th show, please join us on Friday night at the Presidents Celebration Dinner where we'll be honouring our Past Presidents and enjoying a delicious meal at the Muskoka Discovery Centre.  Each person will receive a special commemorative gift.
On Saturday morning, after you've dried the dew off your boat, please join us for complimentary coffee, tea and muffins in the Lions Pavilion.  And then you're ready to face the adoring public!
There's something for everyone at the show which attracts several thousand people each year.
With the historic steamships in the background, the Muskoka Wharf will also showcase an impressive selection of classic cars.  For those looking for that elusive boat part, there's the Nautical Flea Market. In Vendors Alley you'll find everything from artwork to shoes and be sure to visit the ever-popular "Field of Dreams" where you can find your next project in the Boats4Sale area. The Maple Leaf Antique Outboard Club will be there again this year with an extensive show and sale of vintage outboard motors.  The Fashion Show is the place to see some of the newest styles.  For the kids, there's lots do including building their own boat.  And a visit to the boat house at the Muskoka Discover Centre is free for everyone who wants to see some of their prized boat exhibits.
Besides showcasing your boat on the dock, there are a couple of other opportunities for you to show it off.  The crowd loves it when boats roar to life while participating in the Boats in Motion portion of the show where one boat at a time gets Muskoka Bay to themselves to show what their boat can do while the announcer tells them about the history of the boat and why it's special.
The other way you can share your passion is to take some of our show visitors on a short ride in your boat during the Ride Along Program.  This event brings people back year after year and just seeing the joy and thrill on their faces is well worth it!
On Saturday, take a break at the VIP Centre for lunch and afternoon drinks because you deserve it.  We couldn't hold this show without you!
Sunday is the Awards Brunch where the winning boats will be presented.  It's also a chance to celebrate the end of another successful show.
This 2021 events and show take place from
Thursday, July 9th to Sunday, July 11th, 2020